Since SureStar has accumulation in Lidar frontier Technology, Mr. Zhang ke shu (PhD supervisor and researcher) of SureStar CTO was invited to present at the above academic conference, titled Coherent Lidar Technology.
The organizers also invited and participated in lectures by Dr.Brian a. wandell of Stanford university (image system simulation), Dr. Wende zhang of general motors (self-driving sensing technology), Dr. Ching-yao Chan of the university of California, Berkeley (application of machine learning in autonomous driving) and other internationally renowned experts in automotive intelligent and networked technologies.
The main points of Mr. Zhang keshu's academic report are as follows:
Coherent system lidar can detect the weak photon-level laser echo signal, and can detect the geometric characteristics, relative motion and micro-vibration of the target, so it has a wide application prospect.The project team takes the navigation lidar technology of coherent detection system as the next research focus.This paper introduces the research progress of relevant technologies from the aspects of coherent light characteristics, laser signal source, photoelectric detection device, imaging signal processing and navigation lidar system.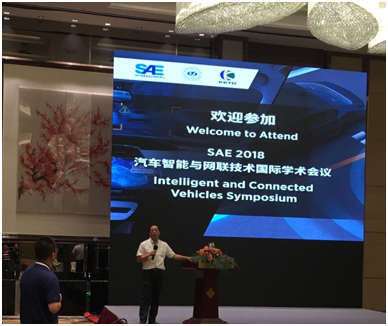 此次由SAE International 与北京航空航天大学联合主办的汽车智能与网联技术国际学术会议一定程度上代表了国际相关技术最先进代表的沟通交流平台,北科天绘参与此次活动并出席演讲对北科天绘在业界的学术影响力和行业间先进技术趋势的交流学习有着重要作用。